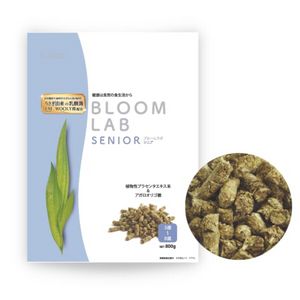 Wooly Bloom LAB Senior (5 to 8 years old)
Description
Wooly Bloom LAB Senior is formulated according to the nutritional needs, oral and overall health of senior adult rabbits between 5 to 8 years old, focusing on anti-aging properties.
A new and improved formula from Wooly BLOOM pellet series, Wooly Bloom LAB contains a lactic acid bacteria found naturally in a rabbit's gut. The LM-WOOLY strain was discovered after 4 years of research done together with Nippon Veterinary and Life Science University in Japan. It is expected to help rabbits maintain a healthy immunity. There is also the addition of two superfoods, Moringa leaves and Spirulina. Moringa leaves has the highest nutritional value among edible plants and has long been used as herbal medicine in India and other subtropical countries to prevent diseases, while Spirulina is a type of algae that strives even in the harshest environment. It contains 60 different kinds of nutrients and aids in digestion and absorption.
Wooly Bloom LAB contains more than 23 kinds of human grade ingredients including functional foods that helps to enhance immunity, prevent diseases and nurse sick rabbits back to health. The coarsely cut fibre in the pellets aids in bowel movements, resulting in bigger stools. It also increases the number of chews, improving oral health and cleanliness by reducing food residue on the rabbit's teeth. Low in calcium content too!
Wooly Bloom LAB Senior contains the following functional ingredient,
1. Lancelot (cultivated in Wooly's farm)
– antacid
– anti-bacterial
– anti-inflammatory
– diuretic
– promotes uric acid excretion
2. Plant placenta
– Anti-aging
– Anti-inflammatory
– Rich in antioxidants
– Enhances immunity
– Promotes collagen production
3. Agar-oligo
– Anti-arthritis
– Anti-inflammatory
– Rich in antioxidants
– Inhibits breakdown of collagen
– Prevents damage of cartilage tissue in knee joints
Bloom Series of Rabbit food is a low calcium diet that also helps to wear off the rabbit teeth (see below).
Size: 800g (Seperately pack in 2x 400g)
made in Japan
Ingredients
Timothy hay, oat hay, oatmeal, corn flour, defatted soybean, rice bran, alfalfa, loquat leaves, mulberry leaves, sunflower seeds, sesame seeds, linseed, plantains (lancelot), pumpkin seeds, honeysuckle, safflower, beer yeast, lactic acid bacteria powder (sterilised), salt, vegetable oil, natto bacteria, plant placenta, agar-oligo, moringa, spirulina, vitamins, minerals, amino acid
Guaranteed Analysis
Crude protein ≥ 12.5%,
Crude fat ≥ 2.5%,
Crude fibre ≤ 21.0%,
Crude ash content ≤ 8.5%,
Moisture ≤ 10.0%,
Calcium ≥ 0.4%,
Phosphorus ≥ 0.25%
Daily Recommended Intake
For rabbits who eat hay, recommended daily intake will be 2% of body weight.
For rabbits who do not eat hay, recommended daily intake will be 3% of body weight.
Attention
Avoid direct sunlight, please keep in a cool place. 

This product is a rabbit only. 

Please keep out of reach of children.

Please consume as soon as possible after opening.

Bloom use a lot of natural ingredients, thus, the taste will change due to weather and season.

Therefore,  there is a case where the taste of the pellets may vary slightly depending on the batches.