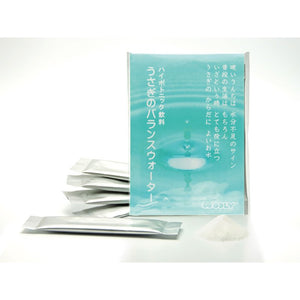 Wooly Rabbit Balance Water (5x3g)
Commodity characteristics
Low osmosis drinking water made for rabbits.
Just like the sports drinks we usually drink, it can smoothly replenish electrolytes and water!
Can be use during or after exercise, after coming home, when the rabbit is fatigued or under stress, when the weather is changing and it is easy to get sick, when the bunny need to be hydrated as soon as possible, when the rabbit is sick, when the rabbit need to be hydrated before going to the hospital.
Electrolyte water is easier for the body to absorb and lock in water than daily drinking water, and it is not easy to be excreted immediately! Can prevent the body from showing symptoms of dehydration.
This low permeability beverage is similar to the sports drinks we usually drink. A low osmotic pressure beverage that is more easily absorbed by the body than isotonic pressure. When the body is short of water, it can quickly absorb this beverage, and it will not be excreted immediately like usual water. It is a drinking water that can maintain a balance of water in the body.

※The balanced drink water for pet rabbits is specially designed and formulated according to the proportions of the rabbit's body shape and characteristics.
Size: 5 sachets of 3g