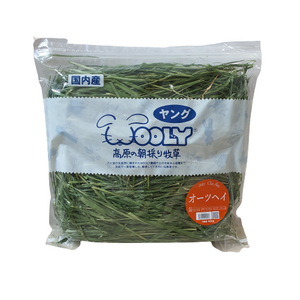 Wooly Oat Hay (400g)
Oat grass cultivated in WOOLY Nagano Farm.  WOOLY farm oat grass is very palatable and is the treasured forage for rabbits. In addition, the calcium content of this oat grass is very low, suitable for rabbits at various stages.

Carefully selected, these delicious young hay is harvest when the fruit is small!  
High fiber 
Ultra low calcium! (Less than half of Timothy's first harvest)
Size: 400g
Guaranteed Analysis:
Crude fiber:24~30%
Total Fiber:40.5~55%
Calcium :0.15~0.28%
Crude Fat :2.5~4%
Crude Protein: 8~11%
Ash Content: 7~10%
Feeding instruction: handful to all-you-can-eat 
Attention
Avoid the heat and humidity and direct sunlight, please keep in a cool place.  

Please do not consume the drying agent in the bag that help to keep hay in optimum condition.

 

This product may varies in due to weather condition.  

Please keep put in place out of the reach of infants (children).   

Do use the hay asap after opening for optimum freshness