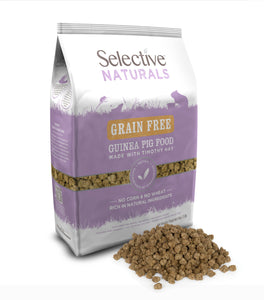 Supreme Selective Naturals Grain Free Guinea Pig Food (1.5kg)
Grain free, respects a natural diet
High in fibre, made with Timothy Hay
No corn, no wheat, rich in natural ingredients
No added sugars or artificial colours
With linseed for healthy skin and shiny coat
Selective Naturals Grain Free is blended with temptingly tasty Timothy Hay to help promote the good health of guinea pigs. High in fibre and grain free, Selective respects the natural diet, with this delicious recipe that includes essential forage and garden vegetables.
It supports digestive wellbeing and has all the vitamins and minerals guinea pigs need to help keep them in the very best of health naturally. Kind to teeth with no added sugars or artificial colours, Selective Naturals Grain Free is blended with natural linseed, to help promote clear skin and a glossy coat. It helps to keep guinea pigs as healthy on the outside as they are on the inside. That's why vets recommend Selective.
But it is what we don't put in to Selective Naturals Grain Free that is important too…
Have you checked the label on your guinea pig's food lately? Take a look, because many guinea pig foods contain molasses or syrup or other sugary ingredients. This extra sugar in a guinea pig's diet can lead to overeating and obesity. It can also lead to dental problems too.
Feeding Selective Naturals Grain Free Guinea Pig food for the first time
If you are feeding Selective Naturals Grain Free to your guinea pigs for the first time, make sure you change from one food to another, gradually over 10-14 days. At first, you should mix a small amount of Selective Naturals Grain Free with your guinea pig's current food, slowly decreasing the old diet, whilst gradually increasing the quantity of Selective Naturals Grain Free. A sudden change in diet can cause digestive upsets – even when you are changing to a better quality diet – so take care!
If your guinea pigs are used to a sugary diet, you may find it takes them a while to change, but persevere as it will help to benefit your pets' health in the long term.
And don't forget fresh hay and water! Your guinea pigs should have an unlimited supply of both at all times, along with a small daily handful of yummy fresh greens – click here for a list of fresh treats that are suitable to feed your pet guinea pigs.
FEEDING GUIDE
The average adult guinea pig will require 40-50g/day of Selective Guinea Pig Grain Free. Fresh vegetables should also be provided along with good quality hay and clean drinking water. Please store in a cool dry place. As a general guide a guinea pig should be provided with a portion of fresh hay that matches its body size everyday. Feeding guides are only estimates of how much food a guinea pig needs and the actual amount can vary depending on activity and other factors. Ajust feeding quantities according to your guinea pig's body condition. Always offer unlimited fresh drinking water.
COMPOSITION
Timothy hay, soya bean hulls, flaked peas, ground soya bean meal, ground dried locust beans, pea flour, whole brown linseeds, soya bean oil, calcium carbonate, hydrolysed yeast, Yucca extract. May contain genetically modified soya and traces of nuts.
NUTRITIONAL ADDITIVES/Kg
Vitamin A 37500 IU, Vitamin C 1000mg, Vitamin D 2000 IU, Ferrous sulphate monohydrate 50mg, Calcium iodate anhydrous 1.5mg, Copper sulphate pentahydrate 7.5mg, Manganese oxide 30mg, Zinc oxide 100mg, Sodium selenite 0.25mg.
ANALYTICAL CONSTITUENTS
Protein 16.0%, Crude fibre 20.0%, Fat content 4.0%, Inorganic matter 5.0%, Calcium 0.6%, Phosphorus 0.5%.
Available in 1.5kg pack size.