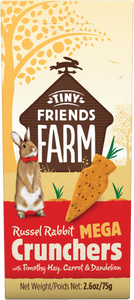 Supreme Tiny Friends Farm Russel Rabbit Mega Crunchers (75g)
Russel Rabbit Mega Crunchers with Timothy Hay, Carrot and Dandelion are tasty baked treats fresh from our bakery, made with the wholesome goodness of natural grains and tasty hay, vegetables and leafy greens.

Feed as a tasty treat to complement your pet's regular diet. Allow 1 treat per week, depending on the size of your pet. Before and after opening please store in a cool, dry place. Fresh hay and water should always be available.
Tasty treats for rabbits, guinea pigs and chinchillas

With Timothy hay, carrot and dandelion

Fresh from the bakery

Yummy crunchy baked treats

Made with the wholesome, tasty goodness of natural grains
Composition: Wheat flour, ground Timothy hay (10%), sugar, soya oil, dried dandelion (1%, equivalent to 7% dandelion), dried carrot