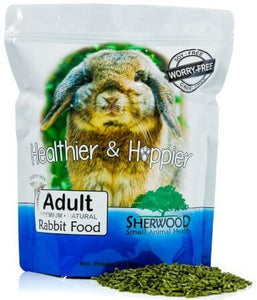 Sherwood Adult Rabbit Food (2kg)
Grain & Soy-Free, and formulated with premium Timothy Hay, whole safflower, whole flax seed, and chelated minerals to promote digestive health and a shiny fur coat! This is formerly known as Maintenance and Support.
Sherwood's unique formula uses alfalfa (instead of the commonly used soybean meal) because it is a more natural, healthier and balanced source of protein that rabbits are adapted to. It is blended with premium grass hay and fortified with additional nutrients. Veterinarians agree that this diet is superior to the grain/soy based diets on the market today.
By the time bunnies reach about 11 to 12 weeks of age they are "teenagers" and need to switch to a diet that is lower in energy and fortified with specific nutrients. This helps them mature without getting fat. In fact it will help them stay trim and active and you'll know that they are healthy on the inside because you'll see the difference in the quality of their fur coat on the outside! Your bunny will live a healthier and 'hoppier' life.

Sizes: 4.5lb (2.04kg)

Guaranteed Analysis
Crude Protein (min): 14.00%
Crude Fat (min): 5%
Crude Fibre (min): 24.00%, (max): 29.00%
Moisture (max): 10.00%
Calcium (min): 0.70%, (max) 1.20%
Phosphorus (min): 0.40%
Salt (min):0.25%, (max) 0.75%

Ingredients: Alfalfa hay, timothy hay, whole safflower, whole flax*, Monodicalcium phosphate, salt, choline chloride, essential amino acids, chelated minerals, B-vitamins, cobalt carbonate.
*We only use high quality cleaned whole ingredients and grind them fresh just prior to pelleting. Our custom blend of whole oil seeds, essential amino acids, and chelated minerals perfectly complements and balances the nutrients already naturally found in the food ingredients.

Feeding Directions: For rabbits that don't eat enough loose hay (at least 50% of the diet by weight) this hay-based, grain/soy-free food provides the additional hay they need. It is a balanced, fortified and complete food low in calories that contains additional Timothy hay to provide correct amounts of long-strand fibre for proper digestive health. As a result rabbits will regulate their own food intake. It will also help overweight rabbits shed excess body fat and help underweight rabbits gain healthy weight and improved muscle tone by supplying a proper balance of the essential nutrients needed for optimal health.

Caution:Store food in a dark and dry location.