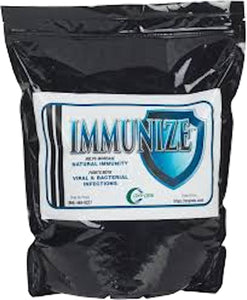 Oxy-Gen Immunize for Rabbits & Cavies (30oz)
Because Health Matters! A strong immune system is essential to good health and vigor in all animals, but rabbits are especially prone to sickness and disease.
With Immunize for Rabbits and Cavia, you can reduce the extreme stress rabbits / cavia experience as a result of transporting and shipping.
Speeds healing Boosts immune system Biotechnology based on beta glucans Immunize pellets provide your animal with the latest technology in overcoming communal sicknesses and disease often found when animals are boarded at shows. Beta glucans are a proven source of benefits for the immune system, offering both health and GI support.
Ingredients: Grain Products, Plant Protein Products, Forage Products, Roughage Products, Brewers Dried Yeast, Wheat Germ Meal, Vitamin E Supplement, L-Lysine, L-Arginine, DL-Arginine, Yeast Extract.
Guaranteed Analysis:
Crude Protein, min 18.50%
L-Lysine, min 1.40%
L-Arginine, min 0.50%
Crude Fat, min 1.50%
Crude Fiber, max 4.00%
Instruction: under 5lb feed 1/16 to 1/4 oz, above 5lb feed 1/8 to 1/2 oz. Safe for all ages!