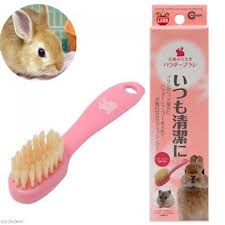 Marukan Powder Brush
Small animals like Hamsters/bunnies love to lick clean themselves, if you want to help them to take a bath with having to launch, fear of them getting cold and make yourself a lot of trouble. You can try using this product, a dry powder brush specifically designed for them.
On the brush, there's a small space where you can open the cover, put the right amount of special dry powder for small animals.
Useful for removing unwanted fur
Gentle on the skin
Suitable for daily use
Small slot to put dry powder or hamster sand
For all small animals