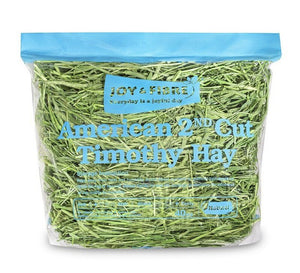 Joy & Fibre American 2nd CutTimothy Hay (40oz)
Introducing Joy & Fibre® American 2nd Cut Timothy Hay, a premium quality hay for your furry friends. Our Timothy Hays are sourced from Washington State, renowned worldwide for its ideal growing and harvesting conditions, making it the perfect location for Timothy hay cultivation.
Our 2nd Cut Timothy Hay is carefully harvested, sun-cured in windrows, and then compressed into bales for storage. This process ensures that the hay is adequately dried by the warm winds, avoiding any moisture and mold issues that could be harmful to your pets.
We take great pride in the quality of our product, and we are confident that your furry friends will enjoy the benefits of this delicious and nutritious hay.  Joy & Fibre® American 2nd Cut Timothy Hay is an excellent source of fiber, which is essential for the healthy digestion of your pets. It also helps keep their teeth clean and promotes good dental health.
We believe that your pets deserve only the best, which is why we provide you with the highest quality Timothy Hay. Trust Joy & Fibre® to be the perfect choice for your pets' nutritional needs.
Guaranteed analysis
Crude Protein (min): 9%

Crude Fibre (max): 32.5%

Crude Fat (min): 2.2%

Moisture (max): 7.4%

Calcium (max): 0.258%