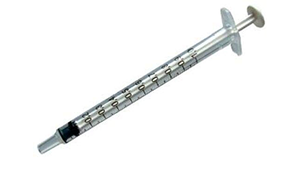 BD Dispensing Syringe Without Needle For Feeding (1ml)
Once in a while, if your pets gets sick, it may need to be hand-fed a mash of special food or medication. You can use this syringe to do that.
If your mixture is very thick, you can cut off some of the tip for easier access. Also, you want to be careful that you don't force feed the food.

Another tip is to use a little vegetable oil or coconut oil around the rubber plunger to make it glide very smoothly for better control.
Can also be use for dispensing the right dosage of Revolution 
Sizes: 1ml