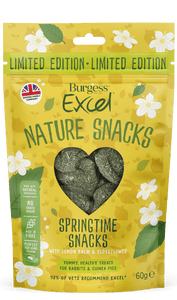 Burgess Excel Nature Snacks Springtime Snacks (60g)
Baked with love, our Excel Springtime Snacks are irresistible to rabbits and guinea pigs and are naturally healthy too. With no added sugar or artificial colours or flavours, Burgess Excel Fruity Feasts are a complementary feed for rabbits and guineas pigs.
Key Benefits:
– High in Fibre
– Made with natural ingredients
– Grass based
– No added sugar
– Perfect for hand feeding

Suitable for: rabbits, guinea pigs

Feeding Instructions:  Feed in moderation, one piece per day.
Ingredients:  Grass (35%), Gram Flour, Pea Flour, Cold Pressed Rapeseed Oil, Dried Carrot, Spring Forage Mix (Elderflower (0.5%), Hawthorn, Lemon Balm (0.5%), Spinach, Oregano, Basil, Thyme, Marjoram, Dandelion Leaf, Camomile)

Crude Protein 15.2%, Crude Oils & Fats 11.1%, Crude Fibre 10.1%, Crude Ash 5.7%