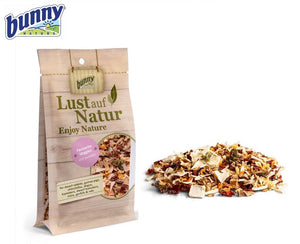 Bunny Nature Enjoy Nature Favourite Veggie with Pumpkin (50g)
Supplementary food for dwarf rabbits, guinea pig and chinchilla

100% nature 
no sugar 
no additives 
no flavour enhancers 
no preservatives 
no colourings
This is a wonderful mixture of all types of vegetables that animals love. Delicious pumpkin gives it a special flavour. By the way, this mix also has a particularly positive effect on the well-being of animals.
Ingredients: Parsnips, chicory root, sweet peper, pumpkin(15%), broccoli, parsley stems
Feeding guide: Daily 1-2 tablespoon(s) - depending on the animal's size and weight.
Size: 50g