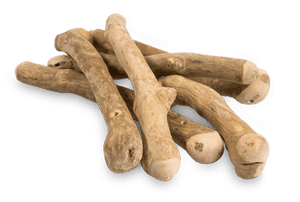 Bunny Nature Interactive Coffeewood
An exciting activity and a natural nibble treat in one!
Unique coffee wood is ideal for keeping dwarf rabbits and rodent busy nibbling whilst having a lot of fun. Animals follow their natural gnawing instinct and gnaw at the coffee wood with great perseverance, which demands their concentration and ultimately results in their satisfaction.
Feeding guide
Simply place the coffee stick in the hutch and the nibbling fun can begin.