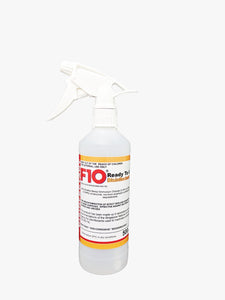 F10 Ready-To-Use Disinfectant (500ml)
A safe and effective broad-spectrum disinfectant for high-level disinfection of surfaces.  Effective against bacteria, viruses, mould, yeast and spores.  Non-irritant and non-corrosive.
pH balanced
Non-irritating to the skin
Tested safe for use in households with pets
Highly cost effective
Biodegradable
Non-corrosive
Alcohol & aldehyde free
Non-flammable
Leaves no stains and can be used on any surface
Safe to use in presence of animals

Can be used in treatment of aquatic animals

Composition: Contains Alkyl Dimethly Benzyl Ammonium Chloride (0.054%) and Polyhexamethylene Biguanide Hydrohloride (0.004%) compounds, ampholytic surfactants and sequestrants
Applications: General cleaning with 1:250 dilution
Instruction: Store in a cool dry, well ventilated area out of direct sunlight.  Keep containers tightly closed.  Solution is stable up to 2 years.  Basic principles of disinfection apply, i.e. disinfectants may be inactivated by the presence of organic debri and heavy soiling.