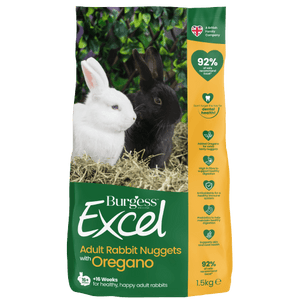 Burgess Excel Adult Rabbits Nuggets With Oregano (1.5kg)
A delicious, complementary food for adult rabbits with added oregano for extra taste and additional health benefits. High in Beneficial Fibre and rich in nutrients it helps maintain digestive health.
Naturally high in Beneficial Fibre (39%)
Prevents selective feeding
Contains a natural prebiotic for digestive health
Fortified with vitamins and minerals for healthy eyes, skin and coat
With oregano to aid digestion and alleviate stress
Natural antioxidants to support the immune system
This pellet is suitable for all rabbits (from 4 months to 5 years old).  
Size: 1.5kg
Analytical Constituents
Beneficial Fibre: 39%

Crude Protein: 13%

Crude Oils and Fats: 3%

Crude Fibre: 19%

Crude Ash: 5.5%

Sodium: 0.17%

Calcium: 0.8%

Phosphorous: 0.5%

Vitamin A (retinyl acetate) (E672): 25,000 IU/kg

Vitamin D3 (cholecalciferol) (E6761): 2,000 

IU/

kg

Vitamin E (dl Alpha tocopherol acetate) (3a700): 155mg/kg

Vitamin C (L-ascorbic acid monophosphate) 70 mg/kg

Copper ( Copper Sulphate Pentahydrate) (E4) 28 mg/kg

Iodine (Calcium Iodate Anhydrous) (E2) 2.45 mg/kg

Selenium (Sodium Selenite) (E8) 5.35 mg/kg

Iron (Ferrous Sulphate Monohydrate) (E1) 133 mg/kg

Manganese (Manganous Oxide) (E5) 16.1 mg/kg

Zinc Oxide (E6) 135 mg/kg
Ingredients: Grass Meal, Wheat, Oat Feed, Soya Bean Hulls, Lucerne, Peas, Yeast, Molasses, Thyme, Soya Oil, Ligno-cellulose, Limestone, Monocalcium Phosphate, Short Chain Fructo-oligosaccharides 0.25%, Salt, Egg Shells, Minerals, Oregano Oil 0.1%.