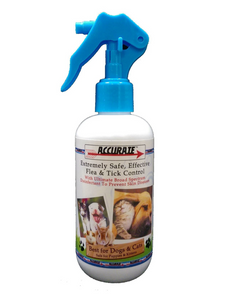 Accurate Flea & Tick Control (250ml)
Accurate Flea & Tick Control offers an all-round protection for your pets and surroundings against Fleas, Ticks, Lice, Bugs, Mosquitoes and Maggots. The specially formulated spray contains active ingredient Etofenprox, which is mild and safe for use around children and small pets without exposing them to harsh chemicals. Accurate Tick and Flea Spray does not contain any artificial colours or fragrances.

Kill ticks, fleas, maggots by attacking pest nervous system
Treat maggot wounds
Does not penetrate into blood streams
Gentle enough for daily use
No skin / eye irritations
Low toxicity and is safe for small animals and children
Non-staining and eco-friendly
Size: 250ml
Ingredients
Etofenprox 1.5%  w/w

Triple salt of potassium monopersulphate
* Etofenprox is classified by World Health Organization under Table 5, and is deemed unlikely to present acute hazard with normal use.